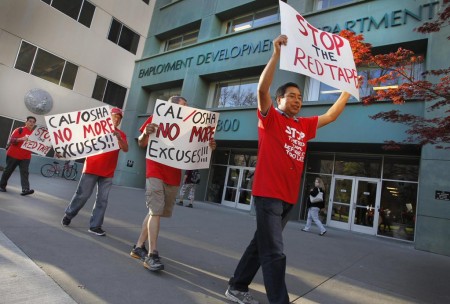 By Elizabeth Nolan Brown
Since Los Angeles County passed a 2012 law requiring all male porn performers to wear condoms, some Californians have been trying to extend the requirement statewide. Legislation to this effect failed last summer, but activists are now seeking to put the matter before voters in 2016. If successful, the proposed ballot measure could cost California tens of millions of dollars per year in lost revenue and create an underground adult industry that is less safe for workers.
The California Safer Sex in Adult Film Act would task the state with granting adult-filmmaking licenses, which means government officials deciding who is and isn't allowed to make porn in California and what kinds of films are allowed to be made. It would also mandate condom use for all on-camera intercourse and impose a fine (up to $70,000) for each failure to use condoms. In addition to those fines, the state could extract between $1,000 and $15,000 for failing to file the proper paperwork for each film's production. Distributors of films that don't use condoms and talent agents who refer actors to these films could also be arrested.
California's Legislative Analyst's Office predicted that should the measure become law, "parts …read more