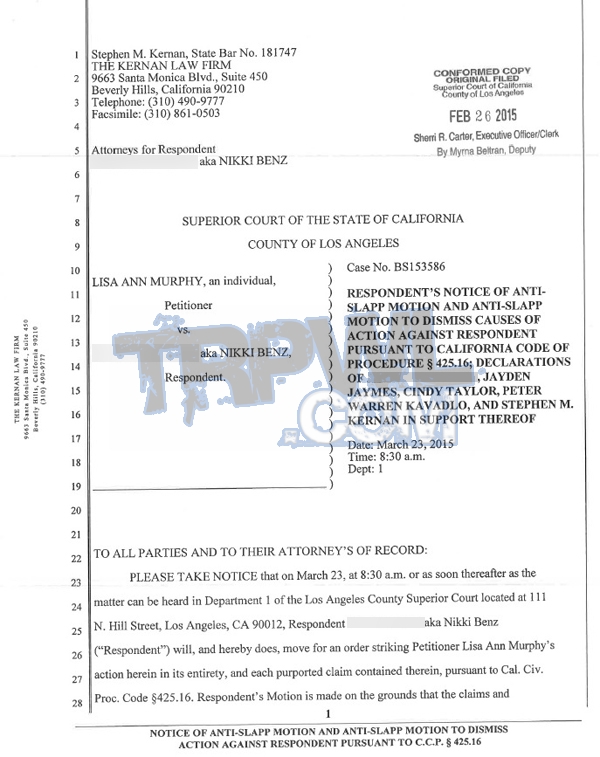 Readers will recall that, earlier this month, newly retired adult star Lisa Ann filed for a Civil Harassment Restraining Order against adult star and Penthouse Pet of the Year Nikki Benz, claiming that she was afraid of Benz because she had threatened her.
Thursday, in an anti-SLAPP motion filed in Los Angeles Superior Court by her attorney, Stephen M. Kernan, Nikki Benz called Lisa Ann's legal maneuver a frivolous "publicity stunt" and called for its dismissal.
California's anti-SLAPP statute provides for a special motion to strike a complaint that arises from activity exercising the rights of petition and free speech.
Benz's motion states that Lisa Ann's action is ripe for the application of the anti-SLAPP statute "as it is obviously nothing more than a publicity stunt by Petitioner to get media attention. The overburdened court system should not be involved in a fading porn actress's attempt at garnering publicity."
The statement of facts contained in Benz's motion is delightfully brutal:
The parties in this action are both in the adult entertainment industry. Respondent [ ] Nikki Benz is a famous adult entertainer at the height of her career. Petitioner Lisa Ann Murphy is a retired adult entertainer who is trying to remain …read more