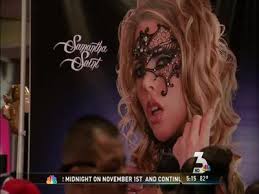 It's the naked truth: the porn industry is making its way to Las Vegas.
How much will the Las Vegas economy reap in benefits as more adult film producers migrate to Sin City?
The adult entertainment industry rakes in $11 billion every year, and Nevada is already getting a piece of that pie.
The website kink.com supplied some behind-the-scenes images just before a fetish video was recorded in a studio near the Las Vegas Strip. Whips and chains were lined up as production crews readied their stage with adult performers.
"I love the weather out here. I love the change of scenery," said Paul Duncan Gryce, one of many adult performers moving to Las Vegas permanently for work.
"It's because right now this is where the work is. There is no state income tax, which is a big reason I think a big reason why it's pretty big here. Taxes definitely add up after a while," Gryce said.
"My favorite thing about porn is the money; like everybody else, it's about a paycheck at the end of the day," Gryce said.
Porn money translates into huge bucks. The adult film industry is a $6 billion business in California. Porn production brings employment and sales to whatever town …read more