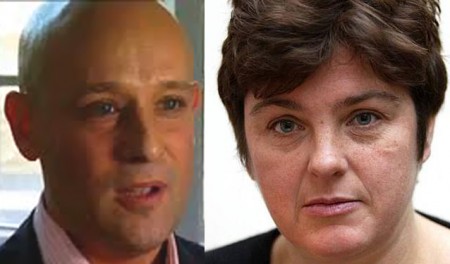 On 22 October 2014, Essex University held a debate on pornography at its Colchester campus.
To quote the university website:
Jerry Barnett made a fortune as an online distributor of pornography. He regularly appears on media as a libertarian activist.

Julie Bindel is a leading English feminist, columnist, and co-founder of Justice for Women.
Here is Barnett's account, from his indispensable site, Sex & Censorship:
Those familiar with the state of anti-porn argument will know it's pretty comparable with anti-climate change argument: very little in the way of evidence, but plenty in the way of noise, indignation, conspiracy theory and "it stands to reason"-type arguments.
The foundation of today's anti-porn rhetoric was laid by Catharine Mackinnon and Andrea Dworkin ("the Macdworkinites") in the 1980s, and the arguments appear not to have evolved greatly in the intervening decades; today's anti-porn feminism lacks the flair and (evil) genius of the Macdworkinites. For this reason, it's increasingly easy to demolish claims of harm caused by pornography; the problem is that the media is still largely in the sway of the "OMG what about the children?!" brigade. It's for this reason that I founded Sex & Censorship: to present evidence-based argument against the combined religious/feminist weight of porn …read more