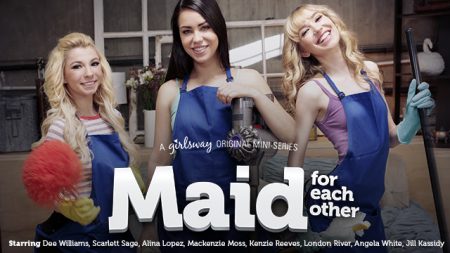 (Montreal, QC) — Adult Time announces the release of Maid for Each Other, a brand-new Girlsway Original Mini-Series that's sweeping up excitement with the lesbian erotica studio's biggest fans.
The new series marks the directorial debut of adult performer Casey Calvert for the studio. Calvert – along with Maid for Each Other co-director Eli Cross – was recently named one of Gamma Entertainment's newest directors to add fresh content to the just-launched Adult Time platform.
"I am excited and honored to be directing for Gamma Films… they are a great company and their collection of sites under the Adult Time banner is some of the most interesting porn content being created today," said Calvert. "I always enjoy performing in high-end girl/girl scenes, and now, getting to direct them for Girlsway is a lot of fun!
The first Maid for Each Other episode 'Office Cleaning' – an after-hours office romp that stars Scarlett Sage as a sexy 'cleaning lady' who instantly catches the eye and distracts busy executive Dee Williams (in her Girlsway Model Debut) – is available starting today at https://www.girlsway.com/en/maid-for-each-other.
"We are extremely proud to bring Casey Calvert on board as a director for Gamma Films," said the …read more
Post navigation