Most of you have no idea who Bobbi Dylan is. Bobbi is the fringe performer who once sold other performers information for cash, once claimed to have connections to New Jersey Governor Chris Christi, and has gone out of her way to say that I, TRPWL, hid from her at AVN
It was only a matter of time before Bobbi was once again, subject of a TRPWL post..
So the other day I'm watching Lethal Weapon 1, The main antagonist in the first one is a guy called Mr. Joshua, played perfectly by the great Gary Busey. Sometimes when a movie or even a TV show is on, I wonder what happened to so and so.. So I google up Busey on my awesome Iphone 7 plus, and start reading about his motorcycle accident, then read how he was hooked on drugs for awhile..
While peddling the bike I made this tweet in reference to Busey:
Well apparently Bobbi Dylan's brother is a crackhead: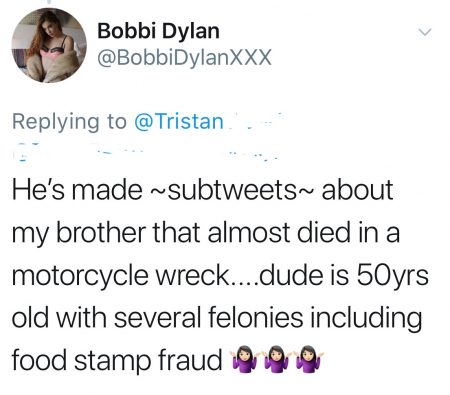 Hmmm, so many great things about this tweet, the food stamp fraud accusation, …read more